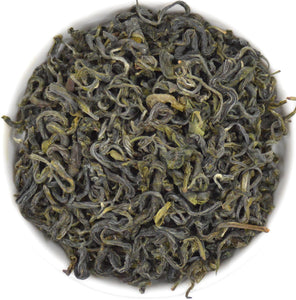 Wuyi Green
This Chinese green from Wuyi, Fujian reminded us immediately—bizarrely—of a seaweedy, rich Japanese green tea like Guricha. Marine notes are not super common in Chinese greens, which made it all the more intriguing.
But just because the two teas are both a bit oceanic does not mean they taste the same! In a side-by-side tasting, the difference becomes pretty clear. Contrasting to Guricha's 'fresh out of the ocean' salty edge, this Wuyi punches you in the face with roasted nori, and an almost barbecue-like sweetness. It mellows immediately in the second steep to show its crystal clear Chinese character, but the roasted nori remains. 
This is a fascinating tea that has quickly become one of our favorites. Try coldbrewing it for a savory cool summer drink!
Grown at 1100m 
Please note:  If you order multiple one ounce increments of tea, they will be consolidated into one larger bag. (Example: if you purchase four 1oz bags, they will be packaged into one 4oz bag.)

The following discounts are included in the listed purchase price:
-6oz and above - 5% off
-16oz and above - 10% off