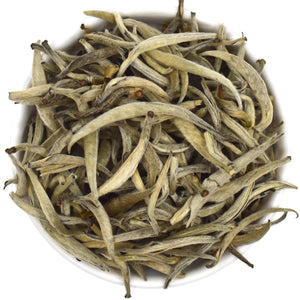 Silver Needle
We're excited to offer a new premium Silver Needle tea! This classic white tea, also known as Bai Hao Yin Zhen, is made entirely from needle-shaped leaf buds that are covered in down-like white hair. Picked in the early spring, it brews a very pale yellow liquid, and the flavor is full, bright, smooth, sweet, and accented with hints of bamboo and orchids.
This is one of the most popular white teas, for good reason, and is among the most prized of all Chinese teas - a perennial "Top Ten"!
Grown at 800m in Fadin, Fujian Province.
Ingredients: White tea


Please note:  If you order multiple one ounce increments of tea, they will be consolidated into a larger bag. (Example: if you purchase four 1oz bags, they will be packaged into one 4oz bag.)

The following discounts are included in the listed purchase price:
-6oz and above - 5% off
-16oz and above - 10% off