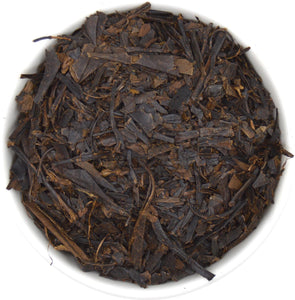 Kyoto Wakoucha
Japan is famous for its green teas, which makes black teas like this a rare find! Crafted in a small farm on the outskirts of Kyoto, Japan, this tea is made with Japan's most popular cultivar: Yabukita. 
This is definitely a standout in our collection! We had a great time playing around with the brewing protocols of this tea, trying to balance the natural tannins and sweetness. A stronger brew (three minutes or longer) provides an intense woodiness, a little on the tannic side, giving tree sap and oak charcoal over a rich, dark port. Add a touch of milk, and the woody notes are softened into a rich, dried plum-and-port cup. The second infusion smooths the woodiness away entirely, and the fruit notes brighten closer to pear. 
If you prefer a cup of tea without milk, we recommend a shorter brew—around two minutes—and slightly cooler temperature (around 200 F). This will make a smoother, more balanced cup with reduced tannins.
Fun fact! 'Wakoucha' refers to any Japanese black tea, and translates to 'red tea from Japan'. Japanese, like most Chinese dialects calls what we call 'black tea', 'red tea'. Another example of this naming convention in our collection is the Mao Feng Hongcha.

You might notice that this tea looks a little—…. well, messy. But don't judge it by its looks! It is 'aracha' - unsorted, unrefined, and sometimes called 'farmer's tea'. That means that it contains the entire leaf, stem and all, parts of the harvested tea that otherwise would be sorted out. In Chinese tea culture we might call this 'maocha', and it's still all excellent Camellia sinensis. 
Ingredients: Yabukita cultivar black tea


Please note:  If you order multiple one ounce increments of tea, they will be consolidated into one larger bag. (Example: if you purchase four 1oz bags, they will be packaged into one 4oz bag.)
The following discounts are included in the listed purchase price:
-6oz and above - 5% off
-16oz and above - 10% off