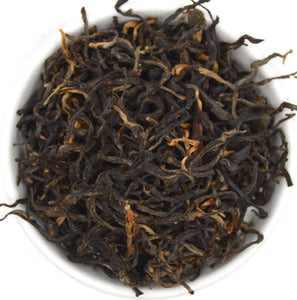 Nepali Gold
Produced on the Teenjure Estate in Nepal, this rich black tea is smooth and full-bodied. The farmers incorporate the bud and first two leaves of the tea plant, leading to an abundance of beautiful golden tips. These tips give the tea its name and unique honey-chocolate sweetness. While rich and complex in taste, this tea lacks heavy tannins or the dry mouth-feel typical black tea. The smoothness of this tea highlights its subtle chocolate undertones and makes it eminently drinkable. Nepali Golden Black is perfect for both hot and cold brews. A forgiving leaf, it can be made lighter or darker depending on one's preference. If you like Yunnan black teas you are sure to like this excellent tea!
The Teenjure Estate is Nepal's first cooperatively-owned tea factory and they have the highest standards of consistency and quality.
Ingredients: Organic black tea. USDA Organic, Rainforest Alliance Certified, Direct Trade.
 The co-operative is named "Teenjure" which is Nepali for "three hills." Local villagers from the three hills banded together to first form a growing co-operative, selling their harvested green leaf to a nearby factory. Then in 2013, they raised the money on their own to setup their own factory, allowing them to have a finished tea they could market internationally.


Please note:  If you order multiple one ounce increments of tea, they will be consolidated into one larger bag. (Example: if you purchase four 1oz bags, they will be packaged into one 4oz bag.)

The following discounts are included in the listed purchase price:
-6oz and above - 5% off
-16oz and above - 10% off