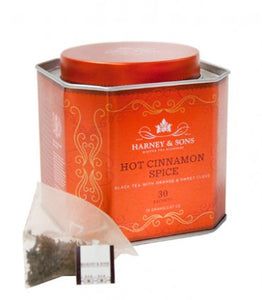 Hot Cinnamon Spice 30ct Teabags
Regular price $18.25 Sale
A very popular flavored tea, this is an assertive blend of black teas, three types of cinnamon, orange peel, and sweet cloves (no sugar added). The bold aroma is filled with the scene of citrus and spices. This is a warm and cozy tea for the colder seasons - we love it on its own, or as a base for the best hot toddy you've ever tasted.
This is one of Harney & Sons oldest flavored tea blends. John Harney developed it in the beginning of the 1980s. Over the decades its popularity has only grown, and it is still much requested here in the Perennial Tea room People love its combination of strong spices and sweetness.
This item contains 30 pyramid tea bags packed in a beautiful orange tin.
Ingredients: black tea, cinnamon, sweet clove, natural and artificial flavors