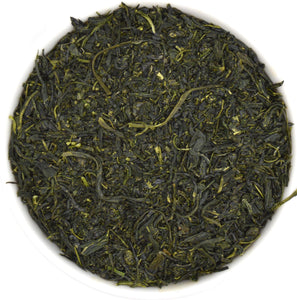 Guricha
As part of the standard green tea producition steps, most Japanese green teas are steamed to prevent oxidation so they retain their fresh green color and flavor. While Guricha is steamed like most other Japanese green teas, it also benefits from a specific manufacturing process that creates a tea similar in appearance to the pan-fired teas of China. It is steamed and fashioned into "comma" shaped leaves by omitting the final kneading process that most Japanese teas go through. 
Our Guricha is earthy, marine, and lightly vegetal with a full body and a very faint tannic aftertaste. Guricha begins with a bright, 'fresh out of the ocean' flavor, like fresh oysters or seaweed snacks, and then deepens into an intense, rich broth.
The aromatic leaves brew a milder and less astringent cup than a typical Sencha. This is an excellent tea with a unique flavor and an emerald cup color. Make sure you give it an extra infusion or two!
Origin: Ureshino, Saga
Cultivar: Yabukita
Ingredients: Green tea
Please note:  If you order multiple one ounce increments of tea, they will be consolidated into one larger bag. (Example: if you purchase four 1oz bags, they will be packaged into one 4oz bag.)

The following discounts are included in the listed purchase price:
-6oz and above - 5% off
-16oz and above - 10% off