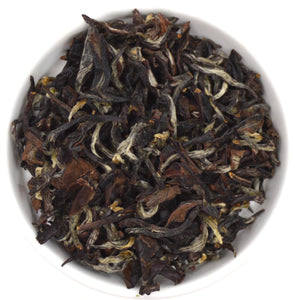 Bai Hao Oolong
A beautiful tea, Bai Hao has multi-colored, silver-tipped, twisted leaves that are heavily oxidized and medium-roasted. This style originated in Taiwan but our particular tea comes from Fujian, China. The flavor is slightly savory and roasted but balanced by a distinct honey-like taste. The distinctive flavor comes from the bites of a tiny insect called a leaf hopper (more below).
About bug bitten tea: Insects called leaf hoppers bite the leaves causing the plant to mount a defensive response and release volatile compound. These defensive compounds give "bug bitten" teas their distinctive flavor - one that humans find delicious!
Ingredients: Chinese Bai Hao Oolong. Organic (EU standards).


Please note:  If you order multiple one ounce increments of tea, they will be consolidated into one larger bag. (Example: if you purchase four 1oz bags, they will be packaged into one 4oz bag.)

The following discounts are included in the listed purchase price:
-6oz and above - 5% off
-16oz and above - 10% off