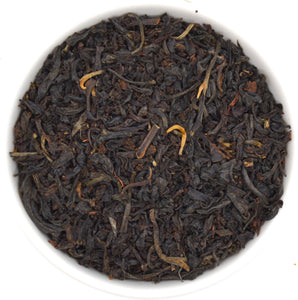 Irish Breakfast Blend
In the world of tea, English and Irish breakfast blends exist in relation to each other: Irish breakfast blends are stronger than English breakfasts, and boy is this strong! If you're looking for a swift kick in the kiester in the morning, Irish Breakfast is your pal.
We blend this tea in-house, to be bright, fragrant, and strong. It makes a robust and fragrant cup, with a with a deep malty undercurrent. A perfect cup to greet the day when you need a firmer hand up and out of bed in the morning. If you like a strong cup of tea--especially to put milk or cream in--then this tea is for you! 
NOTE:
If you've been purchasing Irish Breakfast from us for many years, please be aware that as of November 2022, we have changed over to selling this house-made Irish Breakfast exclusively. Even if you are more familiar with the Barnes and Watson blend, give our new one a try!
Ingredients: Assam, Ceylon, Yunnan, Kenyan black teas
The following discounts are included in the listed purchase price:
-6oz and above - 5% off
-16oz and above - 10% off