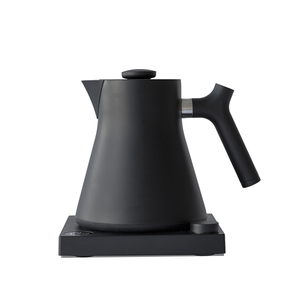 Fellow Corvo EKG
Regular price $159.00 Sale
Meet Corvo EKG, the electric kettle at the intersection of beauty and brains. Variable temperature control, 1200 watts for a quick heat time, and a world of features for ultimate control. Precision engineered to help you perfect your tea (or whatever else you need hot water for) while maintaining a minimal footprint in your kitchen. To speed up your brewing process, Corvo EKG has a 1200 watt quick-heating element.
Since different types of tea require different temperatures, Corvo EKG's variable temperature control makes steeping the perfect cup of tea easy. By turning the dial, you select your temperature ranging from 105°F to 212°F.
The HOLD mode will then keep your water waiting and toasty for 60 min. Corvo EKG's sleek pointed spout and counterbalanced handle are designed for precise and comfortable pouring. A sleek LCD screen indicates the desired "Set Temp" and "Real Time Temp" with an illuminating element to show the heating progress. After the water has heated, use Corvo EKG's built-in Brew Stopwatch to time your tea steep.